HOME      >      FARMING PRACTICES
---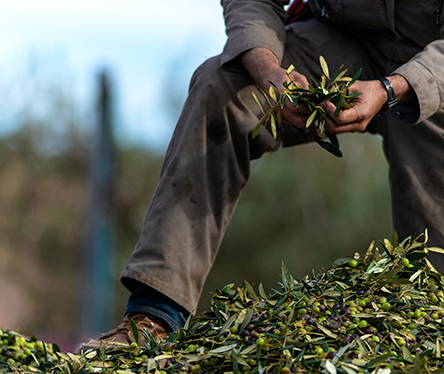 FARMING PRACTICES
Working from the soil up, a balanced agricultural eco-system is the beginning. Organic farming is the baseline.
We strive to create a self-sufficient and balanced agricultural ecosystem, embracing diverse plant and animal populations. On our Ranch, we mindfully consider the sustainable use of resources while tending the soil, supporting the flora and fauna dependent on its health, and tapping the solar energy that powers the growth cycle to maximize sequestration of atmospheric CO2 in our farm products and fertile soils. Our orchards are maintained in accordance with organic standards and are certified by the California Certified Organic Farmers (CCOF.)
Active fertile soil is the foundation of our approach to farming. To enrich our soils, eliminate off-ranch waste, and reduce water consumption, we produce our own organic compost from the by-products of olive oil production, farming, and maintenance of the Ranch landscape and gardens. The olive paste that remains after oil extraction is mixed with livestock manure and plant materials for effective composting. The liquid waste, or olive fruit water, is used to maintain compost moisture. Compost helps develop the organic matter content of our soils, enhancing the quality and productivity of our plantings while sequestering tons of atmospheric CO2 in every acre of fertile ground.
Our unique orchard location in west Marin County's Petaluma Gap offers us distinct climate and varied soil types that are conducive to cultivating our estate plantings. The region's microclimate guarantees that our olive orchards are often shrouded in fog during the early morning hours and evenings, helping ensure steady, gradual fruit maturation. While the day's temperature is pleasant, we experience dramatic diurnal swings with nighttime temperatures dipping low. Our site takes full advantage of this "wind tunnel" effect resulting in a longer growing season to reach peak oil production coupled with very high polyphenol levels.
The majority of our olive trees are planted 15' x 17' (15 feet between the trees, 17 between the rows) allowing the trees sufficient space for mature growth while still permitting access down the rows by tractors. We grow several different Italian varieties including Frantoio, Leccino, Pendolino, Moraiolo, Maurino, Coratina, and Leccio del Corno.
We actively use drip irrigation in our orchards to deliver water precisely to the trees' root systems. Our drip irrigation program allows us to balance the water resources of the ranch with the trees' vegetative and reproductive growth needs. All of our irrigation water comes from rain-fed, surface-run-off ponds; we use no ground water to irrigate our orchards. While olives trees can certainly survive on very little water (and, in fact, our orchards use far less water than most commodity crops in California) the supplemental water does help balance out fruit production from year to year.
There is a common thread in everything we do – supporting a vibrant and healthy ecosystem. This core value is intimately linked to our determination to be good custodians of our environment and to build solid relationships with our neighboring farmers, our community, and all those connected with our offerings.
We're excited to share our passion with you.
GET 15% OFF ALL* PURCHASES
GET 15% OFF ALL PURCHASES
JOIN THE McEVOY RANCH SOCIAL CLUB FOR DISCOUNTS AND ACCESS TO MEMBER EVENTS AND ONLINE RESOURCES
*Exclusions Apply
JOIN THE McEVOY RANCH SOCIAL CLUB FOR DISCOUNTS AND ACCESS TO MEMBER EVENTS AND ONLINE RESOURCES