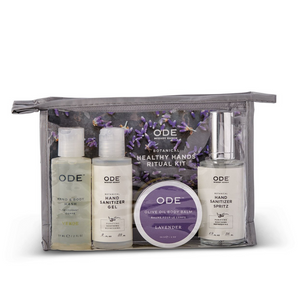 Save $20.00 over purchasing the items individually.
Our exclusive collection of sanitizers, hand wash, and hydrating body balm are packed and ready to go where you need them. The light botanical scents in this kit will give you a boost of calm each time they are used.The entire collection is packed in a zipper clear plastic bag for ease of travel.
Our sanitizers never contain methanol alcohol, and they kill 99.9% of the germs that make you sick. In this fantastic kit, you receive a sanitizing gel for your hands AND a sanitizing spray for your surfaces. Our hand & body wash will become a family favorite, and the body balm is our number one selling item in the entire ODE collection. This makes an excellent gift for special friends and family too.
The Healthy Hands Ritual Kit includes the following:

Clear bag to hold all of the essentials
We recommend you keep one for your car and another for your travel bag.
Make it a gift, add one of7 Occasion Ribbons to this gift for just $3.00! Congratulations, Thank You, and much more. See information at checkout.
#