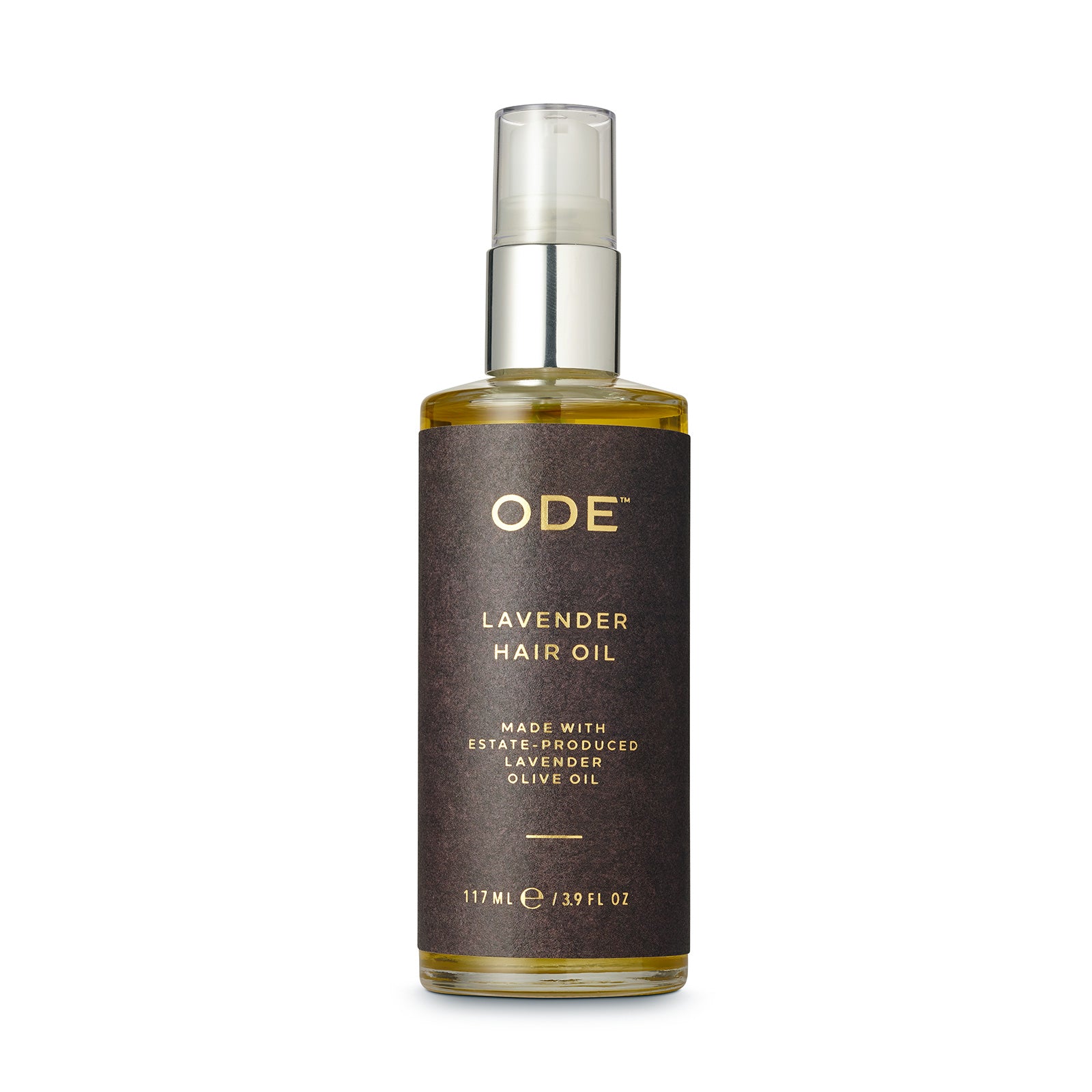 A potent yet lightweight blend of hair + scalp oils for all hair types that promotes hair growth and leaves your hair feeling soft, shiny, and bouncy! Our aromatic blend of lavender olive oil, shea butter, rosehip oil, and grapeseed oil is rich in shine-boosting essential fatty acids to stimulate growth, and support softer, healthier hair.
Lavender Hair Oil Benefits: 
Luminous shine
Restores hydration thru the scalp and hair
Prevents and repairs hair breakage
Promotes healthy hair growth
Calming and healing
How to Use:
Apply a few drops into ends of hair for shine, frizz control, and hydration.
As a scalp and mask treatment, apply a generous amount to a clean, dry scalp and full hair, massage the scalp for 1-2 minutes, and leave in 1 hour or overnight. 
Ingredients: 

McEVOY RANCH LAVENDER OLIVE OIL: The synergy of Lavender and Olive Oil milled together is deeply effective for all hair types. Full of antioxidant-rich properties, highly anti-inflammatory, and high levels of squalene for a soothing hair oil treatment resulting in soft, weightless hydration, and shine.
MORINGA SEED OIL: Decreases inflammation and hydrates dry scaling scalp. Helps with keratin production to strengthen hair strands, and protects against sun damage and color depletion.
SHEA BUTTER: Restores lost moisture due to over processed, or color-treated hair. Strengthens hair strands and reduces breakage. Protects and repairs hair from sun damage.
GRAPESEED OIL: A lightweight oil full of nutrient-rich antioxidants, omega fatty acids, and amino acids for overall hair health. Used as a scalp treatment to stimulate hair cell production and improve hair growth.
ROSEHIP OIL: A rich source of essential fatty acids and vitamins to fight the frizzies, hydrate dry scalp, encourages hair growth, and improves vibrancy.


Our ODE Olive Oil Beauty Promise:

Sustainable Farming
Leaping Bunny Certified
Formulated without Parabens, Phthalates, and Sulfates
BPA Free Packaging
Sustainably Harvested Paper (FSC certified boxes)
Scented Exclusively with Essential Oils