PUBLIC EVENTS & WORKSHOPS
A myriad of topics. Each providing an unparalleled experience.
The Ranch is a magical place and we love sharing it with our guests. Visit us any time for Wine and Olive Oil Tastings or a WalkAbout Tour, but we invite you to mark your calendar for one of our upcoming Workshops or Celebration Events that are available for a short time. We offer a wide range of fun and interesting workshops including Winemaker dinners, Yoga, Community Milling Day, and Wreathmaking Workshops, and much more! If you see something you like, sign up today, as spots fill-up quickly. We look forward to seeing you at the Ranch!
For reservations, questions, or changes, email [email protected] or call us at (707) 778-2307. We check voicemail often. If after hours, we will return your call the following day.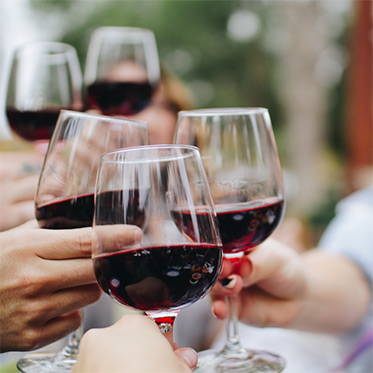 WINE DOWN WEDNESDAY
Beginning June 15th | 4 - 6 PM

Say hello to Summer and join us for Wine Down Wednesdays at McEvoy Ranch! Enjoy wine by the glass on our Tasting Room Patio with views of Morelli Pond, rolling hills, and sprawling olive orchards. Each week we'll offer new specials on our small-lot and estate wines, available exclusively for Wine Down Wednesday's attendees!

Social Club Member Benefits: Members receive a complimentary glass of wine and exclusive wine promotions!  
COMMUNITY MILL DAY
November 13th | 8 - 11 AM (Designated 1 Hr Time Slots)
Price: $1.50 Per Pound of Olives
Community Mill Day is one of our favorite days of the year here at McEvoy Ranch! On November 13th, we'll gather with small growers from across Northern California as they bring their freshly-picked olives to our mill to create a true regional blend of olive oil. We combine everyone's crop and mill a seasonally unique Extra Virgin Olive Oil that is always delicious. Come with your olives and join us for this seasonal festivity!

Pre-registration is required and must be completed prior to 11/11/22
Please note, olive growers who have 1 ton or more of olives are invited to custom mill their olive oil on our Certified Organic mill for $550/ton.
Find out more.
---
---
---
GET 15% OFF ALL* PURCHASES
GET 15% OFF ALL PURCHASES
JOIN THE McEVOY RANCH SOCIAL CLUB FOR DISCOUNTS AND ACCESS TO MEMBER EVENTS AND ONLINE RESOURCES
*Exclusions Apply
JOIN THE McEVOY RANCH SOCIAL CLUB FOR DISCOUNTS AND ACCESS TO MEMBER EVENTS AND ONLINE RESOURCES