EXPERIENCE THE RANCH
Surrounded by olive orchards, ponds, and wildlife, the views on our 550-acre estate are spectacular and relaxing.
As you enter our Bunny Gate, you are immediately overcome by a sensation of being transported somewhere else. Located only 15 minutes from downtown Petaluma and less than an hour from San Francisco, our Ranch in Northern California is home to 50 acres of Tuscan olive trees nestled amongst natural ponds, coastal fog, and native wildlife. Visit us to experience the extraordinary beauty and serenity for yourself.
For a reservation call (707) 778-2307 or email us at [email protected]
Open daily, 11:00 AM - 5:00 PM by reservation.
5935 Red Hill Rd
Petaluma, CA 94952

---
At McEvoy Ranch dogs are family. We welcome your furry friends to join you on our Ranch Tour* or an afternoon tasting on the patio! We offer scrumptious dog treats and a custom water bowl station for dogs of any size.

*Policy: We ask that all dogs are on a leash and you are responsible for them at all times. Dogs are NOT permitted inside the Olive Oil Mill so when on the Ranch Tour owner must remain outside with their dogs.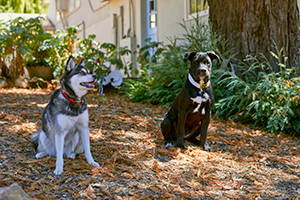 The only change needed here at McEvoy is a better option of emoji. This one does not begin to show the feeling of joy we had as we drove up to the Ranch or as we left. Truly this was a magical experience on a beautiful day right in the back yard of Petaluma. Who could ask for more? Thank you Nan for settling here! We are so lucky to have you!

- Karen Glanfield


We enjoyed the setting. service, food, and drink. The entire experience was delightful and we can't wait to come again. It was the perfect getaway from the day-to-day grind.

- Abigail Joseph

Four of us came Sunday for a wine tasting. Mary was our server and she was delightful. All of the other guests appeared to be having a wonderful tile. The wines are unique and memorable. The venue is hard to beat. We are wine club members. Thank you.

- David Grulke

Gorgeous location and a fun change from wine tasting. Of course we also bought 3 Olive Oils because we couldn't decide!
     
- Vee Hoff

Excellent service! And the setting is absolutely stunning!

- KC Greaney

It's always an amazing experience at McEvoy. The food, the wine, the surroundings and the fantastic people who work there. It's truly a special place.

- Leslie Piper

"Exceptional service and an overall delightful experience!"

- Mel Meyers
We host a variety of events tailored to different sizes and experiences. Our natural setting beckons for guests to relax and enjoy.
GET 15% OFF ALL* PURCHASES
GET 15% OFF ALL PURCHASES
JOIN THE McEVOY RANCH SOCIAL CLUB FOR DISCOUNTS AND ACCESS TO MEMBER EVENTS AND ONLINE RESOURCES
*Exclusions Apply
JOIN THE McEVOY RANCH SOCIAL CLUB FOR DISCOUNTS AND ACCESS TO MEMBER EVENTS AND ONLINE RESOURCES