HOME      >      ABOUT US      >      OUR TEAM
MEET OUR TEAM

Creative, dedicated, and hardworking, our employees are the heart of our business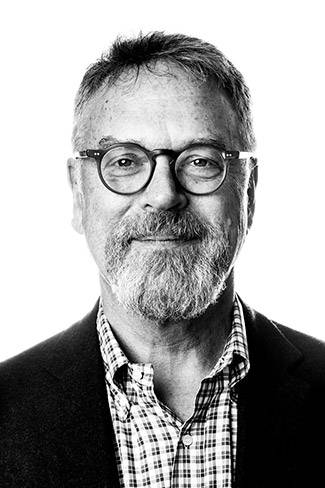 NION McEVOY
OWNER, CHAIRMAN, AND CEO
Nion McEvoy has a knack for bringing passionate people and projects together. McEvoy Ranch's CEO and owner since 2014, Nion worked previously in the business affairs departments of the William Morris Agency in Beverly Hills and Wescom Productions. A graduate of the University of California at Santa Cruz and the University of California's Hastings College of the Law, Nion is also Chairman and CEO of Chronicle Books. He currently serves as Commissioner for the Smithsonian American Art Museum, and on the boards of the SF Film Society, the UCSF Foundation, and the San Francisco Museum of Modern Art. Through Petaluma Projects LLC, he has been involved with the films "Chasing Coral", "The Fourth Estate", and "Won't You Be My Neighbor?".
In between all the work, Nion is also a poet and art collector. His love of music is often intertwined with his responsibilities at McEvoy Ranch and Chronicle Books. He founded the McEvoy Foundation for the Arts, a non-profit arts exhibition space in San Francisco that is free to the public, to showcase his family's extensive collection and complementary pieces on loan. Nion is a former meditation teacher, a drummer in two bands, and he has three grown children. You might say he's anything but typical and that's perfect.
SAMANTHA DORSEY
PRESIDENT
A McEvoy Ranch veteran, Samantha Dorsey was General Manager since 2016 and is now President. Given her tenure, Samantha is intimately familiar with every aspect of the property including our unique microclimates that provide a distinct terroir to our orchard groves, vines, and gardens. She also exhibits many of the core values that we cherish including passion, integrity, and curiosity.
After receiving her BA in Environmental Studies from Oberlin College in 2001, Samantha began her career with us. Over the years, she managed the Ranch's olive tree nursery and the ranch's vineyards and orchards. Her focus has always centered on sustainable farming, creating a ranch environment that is environmentally, socially, and fiscally sustainable.
As President, Samantha is shepherding us into our next stage of growth. She continues to lead workshops on olive orchard management at the Ranch and shares her expertise regarding sustainable farming with other growers in many areas including California, Oregon, Arizona, Mexico, and New Zealand. In addition, Samantha sits on the Executive Committee for the

Olive Oil Commission of California

and is a board member of the Petaluma Gap Winegrowers Alliance.  
Samantha enjoys spending early mornings at the Ranch walking the orchard with her Anatolian Shepherd, Kismet.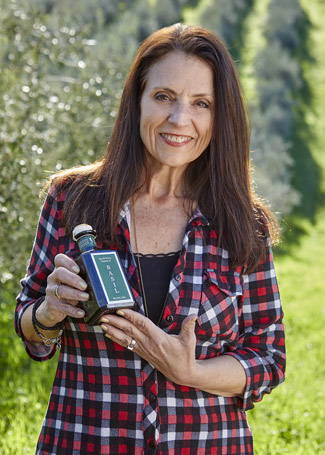 Kym HOUGH
CHIEF MARKETING OFFICER
To Kym, the four P's of Marketing stands for Passion, Passion, Passion, and Passion. It drives her leadership style, business strategies, and enthusiasm for all things McEvoy. Spend five minutes with Kym, and you will see her passion for McEvoy products, the 550-acre Ranch, and her fantastic team on full display.

Kym is a native San Franciscan and has spent her entire career focused on marketing premium, local Bay Area brands including Two Women San Francisco, Lasercraft, Inc., Delicato Family Winery, and Peet's Coffee. In 2003, she took a break from the corporate world for seven years to raise her daughter, Alixandra, and build one of the biggest staging and interior design businesses in the East Bay.

In 2010, she joined Ghirardelli Chocolate as the Director of Marketing for the Restaurant and Retail Division. In this role, her focus was on opening new stores, developing chocolate gifts, and creating new ice cream sundaes for the highest volume ice cream store in the world.

Kym brought her diverse skillset to McEvoy Ranch in February 2019 as Head of the Retail, E-Commerce, and the Specialty Division. In January 2020, she was promoted to Chief Marketing Officer, broadening her focus to include the ODE Natural Beauty line.

Kym and her husband Graham live in Napa with their three dogs, Tootsie Rose, Ozzy Mae, and Dakota Rae. Her outside interests include culinary, reading, home-improvement projects, and macrame.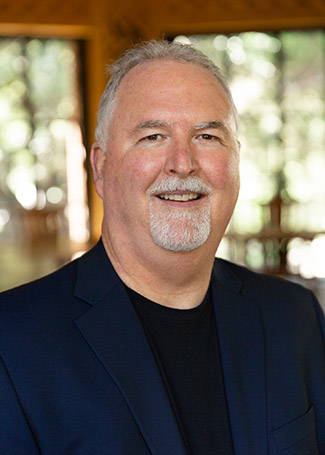 STIEG UNDERWOOD
controller
Stieg first joined McEvoy Ranch in 2003. From day one, he felt right at home at McEvoy; it was the place for him and his culinary passion. He was already a fan of the award-winning olive oil, and when he attended his first gathering around the Ranch's Country Kitchen in the upper ranch, he felt right at home.
Stieg left McEvoy for five years when he moved to Colorado to open a restaurant, but fortunately, the pull of Sonoma County and McEvoy Ranch brought him back to us in 2011. The increase in product offerings and categories led to a much more diverse job this time around and in 2019 Stieg was promoted to Controller.
As a member of the leadership team, he is proud of the fact that he provides financial information in an easy and digestible way for all employees. His favorite quote is from Albert Einstein which says, "If you can't explain it simply, you don't understand it well enough." It's a big part of why his colleagues love working with him so much.
He has a BS in Business Administration from BIOLA University and his background prior to McEvoy was at American Express and as a franchise owner for several national brands.
Stieg lives in Sonoma County with his wife, Carol, and their two cats. He enjoys playing tennis on his off time or driving down a Sonoma County country road on his motorcycle.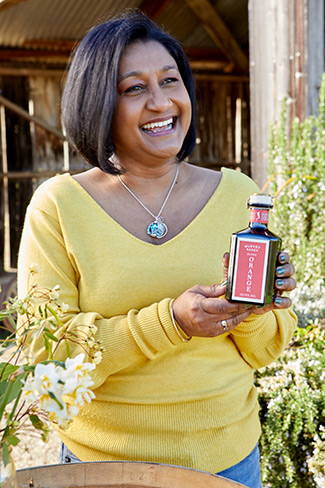 Sherry Paragee
Director of Warehouse Operations
After immigrating to the U.S. in 1987 from her native country of Trinidad and Tobago, Sherry garnered a passion for retail management and operations while working for the Ghirardelli Chocolate Company. During her 21-year tenure in the company, she worked her way up from Assistant Manager to Senior Retail Management, running over 15 high-volume chocolate shops and retail stores throughout the country. After years in the retail space, Sherry was ready for a new chapter and joined McEvoy Ranch as the Director of Warehouse Operations.
She admires the family's commitment to sustainability and female leadership; the fact that McEvoy Ranch offers a robust selection of red wine was an additional bonus!
Sherry and her partner Donny live in Brentwood with their two pug dogs, Bella and Izzy. Sherry enjoys red wine, woodworking, various home renovations, and traveling in her free time.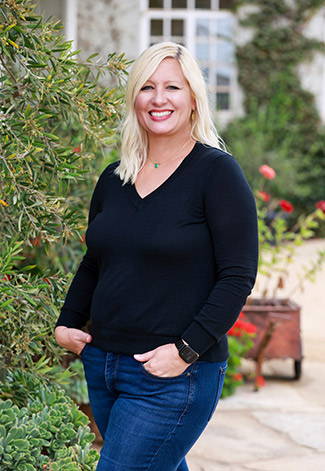 Emily Lamb
Hospitality Director
Raised in Sonoma County where her family owned a restaurant, Emily Lamb has lived & breathed hospitality since she was sixteen. Growing up she danced with Marin Ballet until she began pursuing theater which took her to San Francisco, Los Angeles, and New York City, but something kept bringing her back to the restaurant industry. Today, Emily's philosophy on service comes from her theater/dance training. "The experience at the table is the same as on stage, the servers are your actors, and all of the lighting, props, and visuals turn into your palate and your atmosphere. It's a presentation of sensory experiences that hopefully leave the guest with a feeling like they have traveled through a journey, much like seeing a play.", Emily explains.
After working in some of the most acclaimed restaurants in New York and Los Angeles, Emily found herself back in Sonoma County to raise her two boys Leo and Zander with her husband Blair. Her free time is spent taking day trips with her family to the beach or next town over, hanging with her rescue pups Murray and Bruno, and spending time in Santa Rosa with family!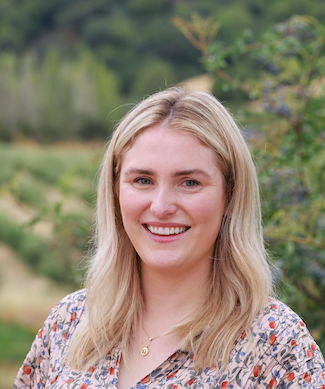 Helen McEvoy
Sr. Brand Manager
Helen McEvoy joined the McEvoy Ranch Marketing Team in 2019. Helen is honored to be working for a business that she has known her whole life, and for the opportunity to bring her brand strategy experience to help evolve the McEvoy Ranch brand with a fresh perspective, while preserving the legacy of craftsmanship that her family has built over the last 30 years.
In 2016, Helen graduated Cum Laude from Middlebury College with a Bachelors of Arts in Economics and Art History. After graduating, she joined Vivaldi Group in New York, an agency specializing in brand strategy and solving companies' growth challenges. During her time at Vivaldi, she worked with companies across various sectors and verticals including financial services, CPG, and B2B businesses. Previously, she worked at Osterweis Capital as an Equity Research Analyst, and at Christie's, as a Post-War Contemporary Research Analyst.
For Helen, the most rewarding part of her job is playing a role in the evolution and growth of McEvoy Ranch as a company and brand in order to reach new audiences and share McEvoy Ranch's wonderful, healthy products with them.
Helen is an animal lover at heart. She lives in San Francisco with her fiancé, Anish. Outside of work, Helen's interests include skiing, music, contemporary art, and travel - her favorite city is London. She is a passionate food lover and skincare and beauty enthusiast, and is thrilled to be working on the McEvoy Ranch, ODE Natural Beauty, and ODE Oasis brands.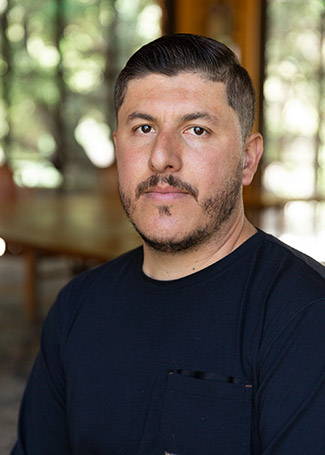 Rigo OLIVARES
mill manager
Rigo Olivares has been part of the McEvoy Ranch team since 2010. For the past­­­­­ 5 years, he has been an essential member of the team as the Mill Manager. He manages the McEvoy Ranch Mill, called the Frantoio, which resides in the heart of the 550 acre Ranch. He looks forward all year long to the moment that harvest starts and his mill comes to life when he can see, smell, and taste freshly-milled olive oil right off the press. He takes a lot of pride in his passion for making the highest quality olive oil, and he personally fills every bottle that is sold from McEvoy Ranch.

Rigo came to McEvoy Ranch with a diverse background in agriculture. Landscaping, pruning grapes and olives, and operating heavy machinery are just a part of his experience. His favorite role, however, before joining the team, was as a sushi chef in 2004, where he treasured both the artistic freedom and great care required to be an excellent chef.

Outside of work, Rigo's hobbies include watching soccer and spending time in nature bike riding, hiking, and fishing. He lives in Santa Rosa with his wife, Alejandra, and cat, Torito.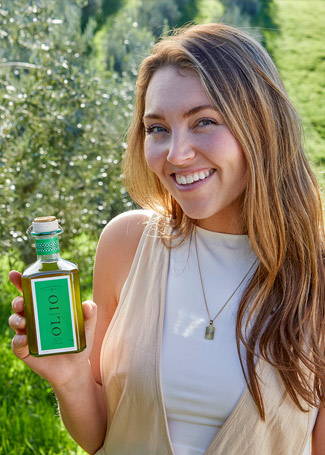 Alix CELESTINO
Marketing & Digital Manager
Alix brings an exuberant flair to the Marketing at McEvoy Ranch. Summarizing Alix in just one statement is easy, "Alix strives for excellence in everything she does, and encourages everyone around her to bring the same level of care to every project." Her years at a competitive Los Angles Advertising Agency make her a strong addition to the McEvoy Ranch team as the Marketing & Digital Manager.

She was drawn to McEvoy because of her passion for sustainability, high-quality products, and strong female leadership. She loves the beauty & wildlife at the Ranch, the healthy lifestyle that McEvoy represents, and thrives amongst the group of hardworking, humorous, and engaging co-workers who allow her and the team to succeed each day.

A graduate of Loyola Marymount University with a degree in Communications and Business Marketing, Alix spends her off-work time at the beach with her German Shepherd puppy, Pliny The Younger, or in her home studio throwing pottery.
BYRON KOSUGE
WINEMAKER
Byron Kosuge joined McEvoy Ranch in August 2017 while the grapes were undergoing veraison. The timing was perfect as it allowed him to quickly get a grasp of our distinct Petaluma Gap microclimate.
A native of Davis, California, he caught the wine bug after delving into English and American Literature at UC Davis. Byron has extensive winemaking experience specializing in Pinot Noir, that most finicky of grapes, and Chardonnay. In addition to his own B. Kosuge brand, he has worked for several notable wineries including Saintsbury, Miura, Kingston Family Vineyards, and Small Vines Wines. His distinct wine style will build upon ours and he's got a wicked sense of humor that fits right in with us! One of the things he likes best about making wine is that the process has a beginning, middle, and end. Each vintage is a slightly different story that unfolds slowly and, like a good book, requires diligence and patience to understand.
When he's not running in a hundred different directions, Byron can be found trying to catch up on the piles of books that still clutter his house. Byron lives with his wife Mary in Napa.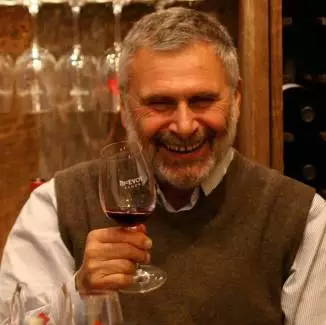 MAURIZIO CASTELLI
CONSULTING WINEMAKER & AGRONOMIST
Dr. Maurizio Castelli, an agronomist and enologist originally from Pistoia, played an integral part in our creation and evolution as makers of exceptional extra virgin olive oil. As the story goes, Nan McEvoy called him to discuss the best Italian olive varieties to plant, and three days later, he was in Marin County advising her. The relationship continues today and it was a natural step when we began our foray into wine to rely on his expertise again.
A pioneer who helped to create such renowned wines as Col d'Orcia's Poggio al Vento Brunello di Montalcino Riserva, Mastrojanni's Brunello Schiena d'asino and Poderi Boscarelli's Vino Nobile, Castelli has more than 40 years of experience in winemaking and consulting all over the world, including at the famed Badia a Coltibuonoin Tuscany. He travels to California several times a year to work at the ranch during the various stages of our olive oil and wine production, as well as to celebrate each harvest with us.
NAN MCEVOY
FOUNDER
Being regarded as a pioneer in her field was business as usual for Nan McEvoy. Her grandfather, Michael De Young, founded the San Francisco Chronicle in 1865 and Nan started there as a cub reporter, a rare position for a woman at the time. She worked her way up and eventually served as Chairwoman of the Board from 1981 to 1995. When a director's bylaw forced her into retirement at age 72, Nan set about doing what she does best—making things happen—and McEvoy Ranch was born. Always an activist with an adventurous spirit, she was an early member of the Peace Corps and John D. Rockefeller's Population Council. Nan was named Food Artisan of the Year by Bon Appetit in 2003.
Nan's passing in March 2015 at age 95 reminded us all to live every moment to its full potential and to continually seek out new opportunities…even when it goes against conventional wisdom. Her vision and drive inspire us to be respectful of the natural beauty that surrounds us whilst curating our inner entrepreneur.
GET 15% OFF ALL* PURCHASES
GET 15% OFF ALL PURCHASES
JOIN THE McEVOY RANCH SOCIAL CLUB FOR DISCOUNTS AND ACCESS TO MEMBER EVENTS AND ONLINE RESOURCES
*Exclusions Apply
JOIN THE McEVOY RANCH SOCIAL CLUB FOR DISCOUNTS AND ACCESS TO MEMBER EVENTS AND ONLINE RESOURCES