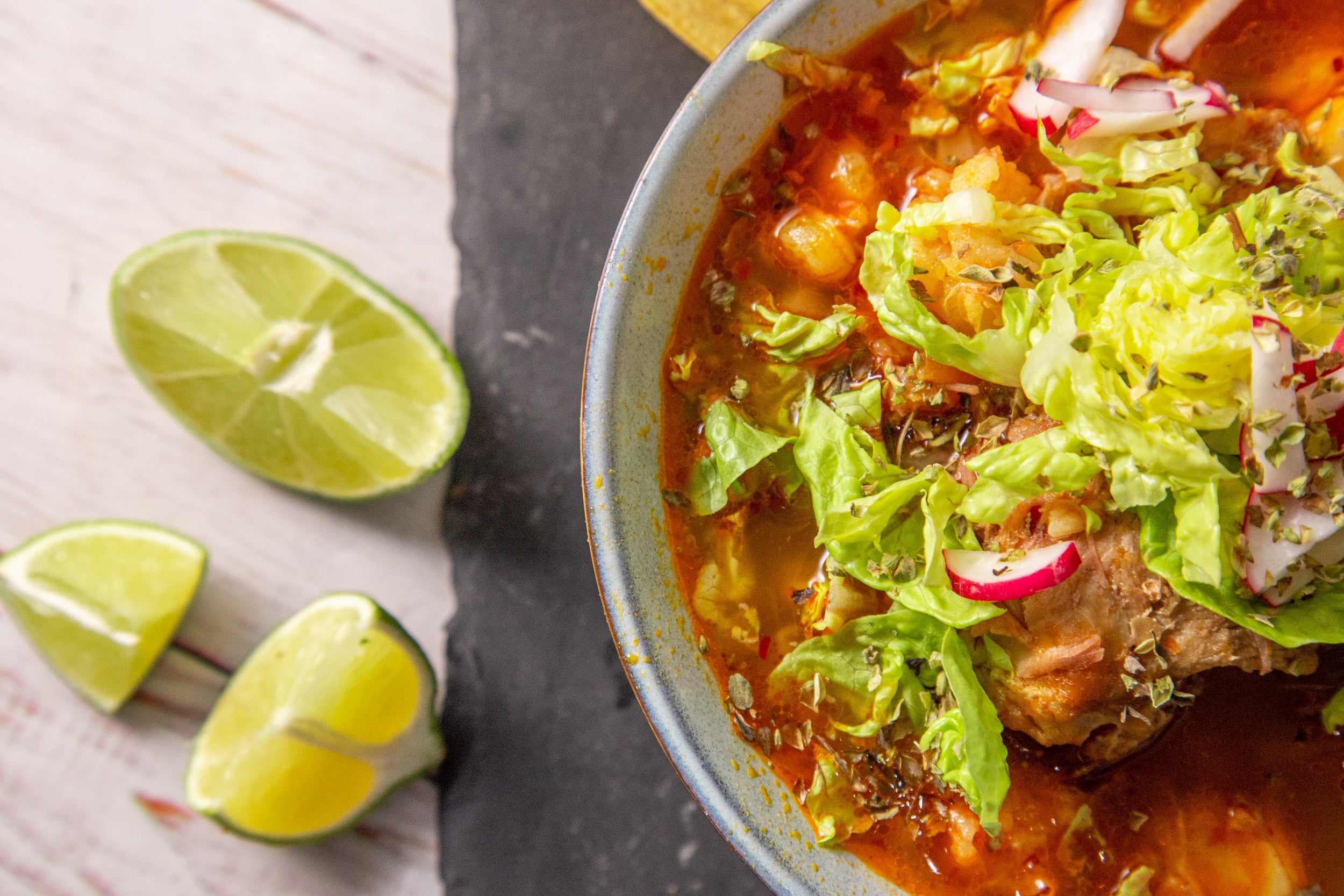 Pozole is a traditional - warm and comforting. The Jalapeño Olive Oil would be a magnificent addition to the bevy of garnishes that make this dish. Here is a recipe from Epicurious for Classic Red Pozole.
INSTRUCTIONS
Preparation of Pork

Preheat oven to 275 F.

Mix cumin, garlic powder, and smoked paprika in a small bowl.

Rub spice mixture all over pork and sprinkle with salt and pepper.

Place pork in pan and cover with sliced onion. Pour 1/2 cup water in the bottom of the pan.

Cover pan tightly and roast until meat is very tender, 5-6 hours.

Let pork rest until cool enough to handle.

Using 2 forks, shred pork into bite-size pieces. Skim fat from juices in roasting pan; reserve meat. *Note: The pork can be made 2 days ahead. Cover and chill pork and juices separately.
Preparation of Pozole
Heat oil in a large pot over medium-low heat.

Add onion and saute until translucent, about 5 minutes.

Add garlic and cook, stirring often, until fragrant, about 2 minutes.

Add the diced fresh tomatoes and stir until softened, about 2 minutes longer.

Stir in broth and next 5 ingredients. Bring to a boil and reduce heat to low. Cover; simmer, stirring occasionally, for 30 minutes.

Add reserved pork to posole. Simmer uncovered 3 minutes longer for flavors to meld.

Season to taste with salt and pepper, adding reserved juices from roast pork, if desired.

Divide among bowls, garnish with shredded cheese, cilantro, lime wedges, and McEvoy Ranch Jalapeño Olive Oil. Serve with warm tortillas.