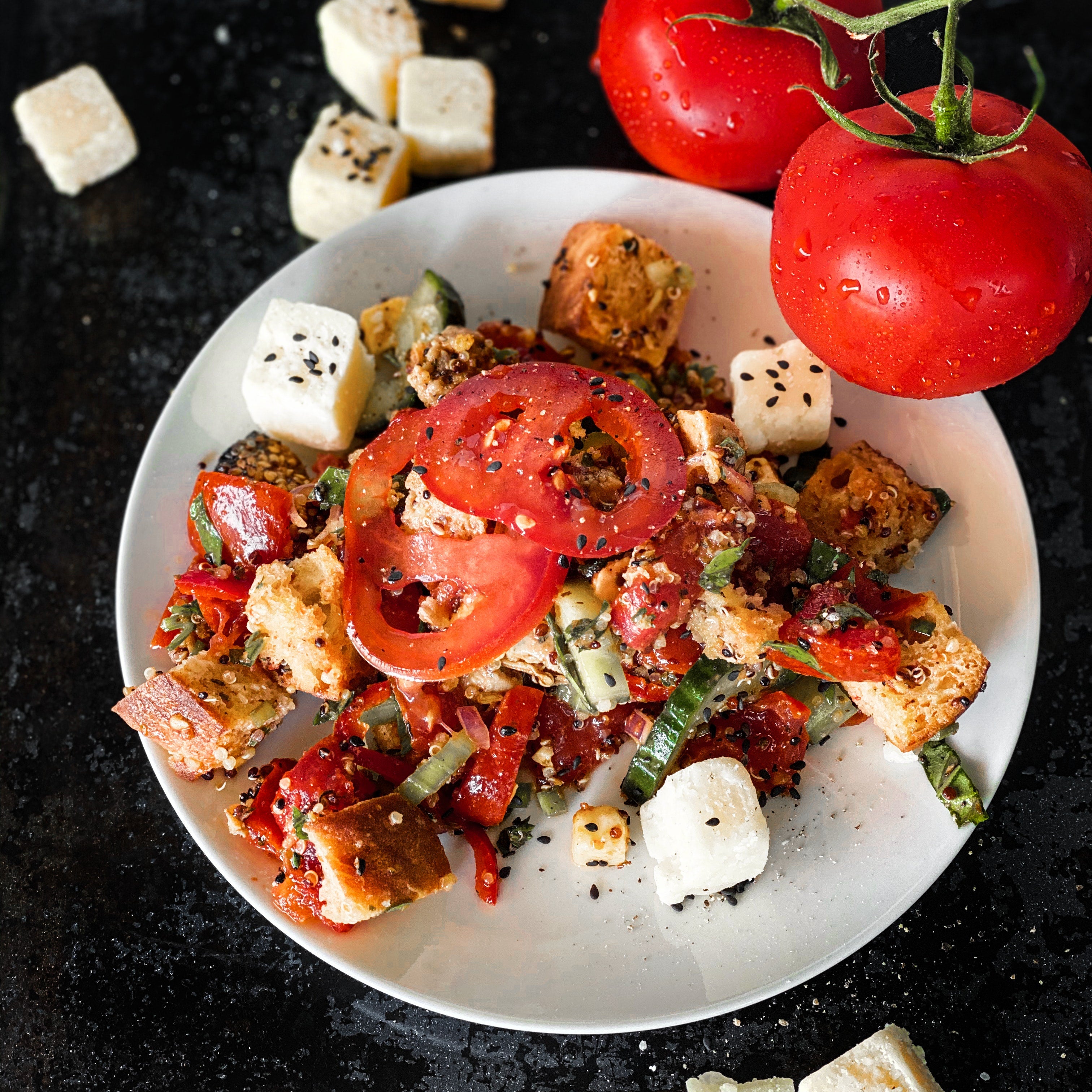 Panzanella is a casual salad. It tastes better when it is made ahead and all the flavors have an opportunity to marinate. It is a good choice if you are planning a trip to the beach or the park and you want something that travels well. If you have bread, preferably stale, tomatoes, and good olive oil, you are on your way. This version happened because I had some very ripe tomatoes and a few other odds and ends from the Farmer's Market. Best of all, I had McEvoy Ranch Basil Olive Oil, and that truly was my inspiration. This oil radiates fragrance and aroma and I knew that, even though I didn't have any fresh basil on hand, the oil would carry the day.
INSTRUCTIONS
Vinaigrette
Stir together garlic, mustard, salt, pepper, and vinegar.

Whisk in olive oil until vinaigrette emulsifies.
Panzanella
Make the vinaigrette and set aside.

Heat a grill or grill pan to medium-high heat.

Brush bread slices with olive oil and grill until firm.

Tear bread into pieces and place in the bottom of a large bowl.

Cut tomatoes in chunks and add to the bread.

Slice zucchini or summer squash in half lengthwise, salt lightly, brush with olive oil and grill until tender.

Slice onion into wedges, salt lightly, brush with olive oil and grill until tender.

Brush corn with olive oil, salt lightly and grill until the kernels are browned.

Cut zucchini into chunks.

Cut corn off the cob.

Toss zucchini, corn, and onions with the bread and tomatoes.

Add the vinaigrette and toss again.