HOME      >      FARMING PRACTICES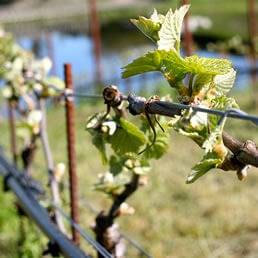 FARMING PRACTICES
Working from the soil up, a balanced agricultural eco-system is the beginning. Organic farming. Wind power. Caretakers.
We strive to create a self-sufficient and balanced agricultural ecosystem, embracing diverse plant and animal populations. On our Ranch, we mindfully consider the sustainable use of resources while tending the soil, supporting the flora and fauna dependent on its health, and tapping the solar energy that powers the growth cycle to maximizesequestration of atmospheric CO2 in our farm products and fertile soils. Our orchards and gardens are maintained in accordance with organic standards and are certified by theCalifornia Certified Organic Farmers (CCOF.)
Active fertile soil is the foundation of our approach to farming. To enrich our soils, eliminate off-ranch waste, and reduce water consumption, we produce our own organic compost from the by-products ofolive oil and wine production, farming, and maintenance of the Ranch landscape and gardens. The olive paste that remains after oil extraction and the wine lees are mixed with livestock manure and plant materials for effective composting. The liquid waste, or olive fruit water, is used to maintain compost moisture. Compost helps develop the organic matter content of our soils, enhancing the quality and productivity of our plantings while sequestering tons of atmospheric CO2 in every acre of fertile ground. Our chickens forage on fenced pastures for insects and plants and their manure is used in our compost. Sheep seasonally graze the orchard cover crop, facilitating nutrient cycling and soil fertility development. Their work reduces the need for fossil fuel-powered mowers and synthetic fertilizers.
Our unique vineyard location in west Marin County's Petaluma Gap offers us distinct climate and varied soil types that are conducive to cultivating our estate plantings. The region's microclimate guarantees that our vineyards and olive orchards are often shrouded in fog during the early morning hours and evenings, helping ensure steady, gradual fruit maturation. While the day's temperature is pleasant, we experience dramatic diurnal swings with nighttime temperatures dipping low. Our site takes full advantage of this "wind tunnel" effect resulting in smaller vineyard yields, moderate sugar levels, and grapes with optimum levels of acidity.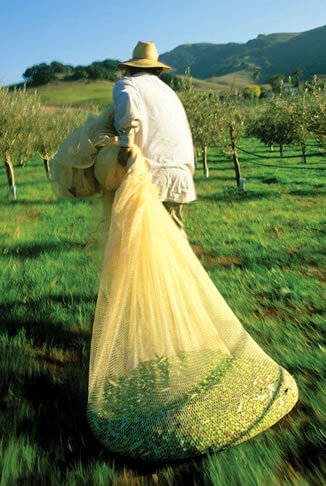 The majority of our olive trees are planted 15' x 17' (15 feet between the trees, 17 between the rows) allowing the trees sufficient space for mature growth while still permitting access down the rows by tractors. We grow several different Italian varieties including Frantoio, Leccino, Pendolino, Moraiolo, Maurino, Coratina, and Leccio del Corno. Our vines are trained to a lower fruiting height, allowing the plant to offer more resources to the fruiting portion of the vine than the permanent structure and maximizing canopy area. This is a European, old world, approach that we found suits our site perfectly.
Our vineyards are planted to several different clones and varieties including – Syrah, Montepulciano, Grenache, Alicante, Refosco, Viognier, Pinot Blanc, Pinot Gris, Pinot Meunier and Pinot Noir (Clones: Dijon 115, 777, and 667, Mariafeld, Pommard, Swan, Calera, Mt. Eden, 2A, and 828.) Vineyard spacing varies with aspect, slope, and best soil utilization taken into consideration. Plantings are 2½' x 7', 2 ½ x 18' when interplanted with olive trees, and 4' x 8' at our Azaya vineyard.
We actively use drip irrigation to ensure that the minimum amount of water is utilized while still keeping our fruit nourished. We also practice shoot thinning, green drop, integrated pest management including cover crops, and a host of other activities that ensure we maintain our organic vineyards in their most healthy, natural state. To learn more about what happens in the vineyard throughout the year, visit our seasonal vineyard care page.
There is a common thread in everything we do – a full, healthy eco-system. This is intimately linked to our determination to be good custodians of our environment and to build solid relationships with our neighboring farmers, our community, and all those connected with our offerings.
We're excited to share our passion.
GET 15% OFF ALL PURCHASES
GET 15% OFF ALL PURCHASES
JOIN THE McEVOY RANCH SOCIAL CLUB FOR DISCOUNTS AND ACCESS TO MEMBER EVENTS AND ONLINE RESOURCES
JOIN THE McEVOY RANCH SOCIAL CLUB FOR DISCOUNTS AND ACCESS TO MEMBER EVENTS AND ONLINE RESOURCES