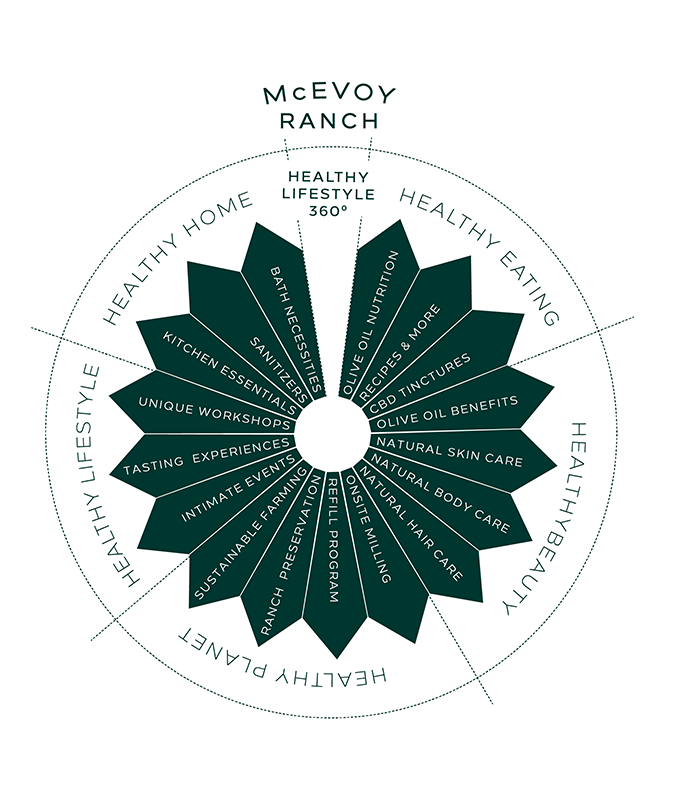 HEALTHY LIVING
Healthy living with McEvoy Ranch
Our founder, Nan McEvoy, always believed in living a healthy yet balanced lifestyle that values enjoyment as part of our overall well being. McEvoy Ranch's guiding purpose has always been to share the wonderful health benefits of the olive through our products. At McEvoy Ranch, we grow and mill our olives in the Tuscan tradition, which calls for an early harvest. The autumn frosts in Tuscany prompt farmers to harvest their fruit earlier than other regions, resulting in a grassy, green, pungent, flavorful olive oil. Early harvest olive oil abounds with polyphenols, a type of antioxidant. These polyphenols are good for the body inside and out: they reduce inflammation, fight free radicals that damage the skin, and provide anti-aging benefits.
McEvoy Ranch Healthy Lifestyle 360º:These 5 Pillars make up our 360º approach to a healthy and balanced lifestyle. They inform why we have the products and experiences we do, and how we believe our business should operate too.
Health & Balance with ODE Oasis: Our ODE Oasis CBD collection continues the McEvoy Ranch commitment to high quality, trusted products for a healthy and balanced lifestyle with full-spectrum CBD tinctures, skincare, and pet products, all formulated with estate-produced, organic, early harvest McEvoy Ranch Olive Oil to maximize benefit. Learn more about our CBD collection at ODEOasis.com.
GET 15% OFF ALL* PURCHASES
GET 15% OFF ALL PURCHASES
JOIN THE McEVOY RANCH SOCIAL CLUB FOR DISCOUNTS AND ACCESS TO MEMBER EVENTS AND ONLINE RESOURCES
*Exclusions Apply
JOIN THE McEVOY RANCH SOCIAL CLUB FOR DISCOUNTS AND ACCESS TO MEMBER EVENTS AND ONLINE RESOURCES