HOME      >      ABOUT US      >      OUR STORY
About Us
Frantoio Art Collection
Our focus for the new Fall 2021 collection is all about food, wine, and joyous celebration.
We are so excited to share all of the beautiful new artwork with our guests, though the works we have on display are such a small sliver of the family's collection. If you are interested in seeing much more of this vast and dynamic collection, the McEvoy Foundation for the Arts is open Wednesday through Saturday in San Francisco. In the meantime, come and join us in Petaluma for some food and wine and beautiful art!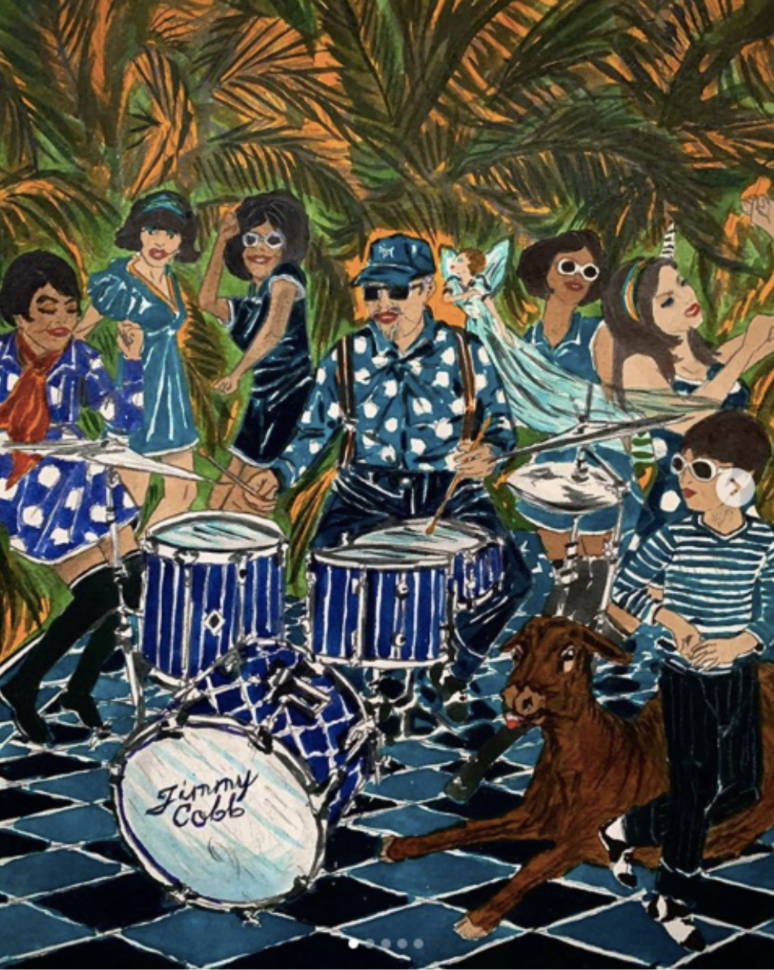 Marcel Dzama
Farewell Jimmy Cobb, 2020
Watercolor, ink, and graphite on paper
Framed dimensions: 16 . x 13 inches
One of the more colorful, upbeat pieces is actually a fond remembrance of legendary drummer Jimmy Cobb, who played in Miles Davis' First Great Sextet and passed away in May 2020. Artist Marcel Dzama blends color and bright patterns with people and animals in his vibrant works; this particular watercolor hosts a whole cast of dancing people, a small goat relaxing amongst the dancers, a fairy who may be whispering to Jimmy, and Jimmy himself at the rhythmic center of it all.
---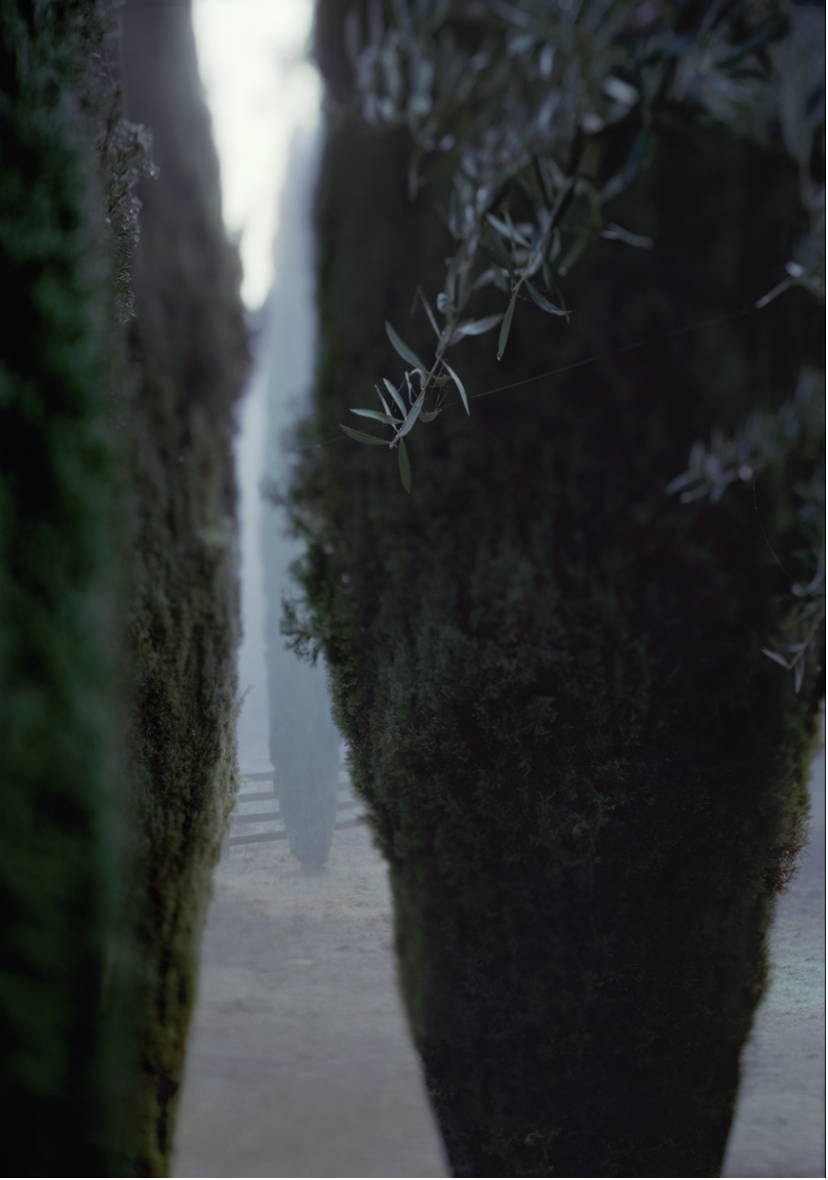 JoAnn Verberg
LIGHT (for Nion), 2020
Pigment print mounted to Dibond
Edition of 6 + 2 AP
Framed dimensions: 41 x 29 . inches/span>
An enormous and significant photograph by JoAnn Verberg is also featured in this collection. JoAnn Verberg has dedicated much of her career to photographing olive trees all over the world, from Italy to Israel to California; her current exhibition at New York's Pace Gallery features many of these olive trees from her years of work. Her eye seems particularly attracted to the path of light through the branches of these incredible trees. In 2018 JoAnn spent a few weeks within the orchards at McEvoy Ranch. One of the very large format prints that arose from that trip is called "Light" and is hanging to the left of the tasting bar. It is an unusual piece because the olive branch plays only a supporting role to the stoic forms of the Italian cypress; many of you may recognize this view from down the driveway at the ranch's lower gate.
---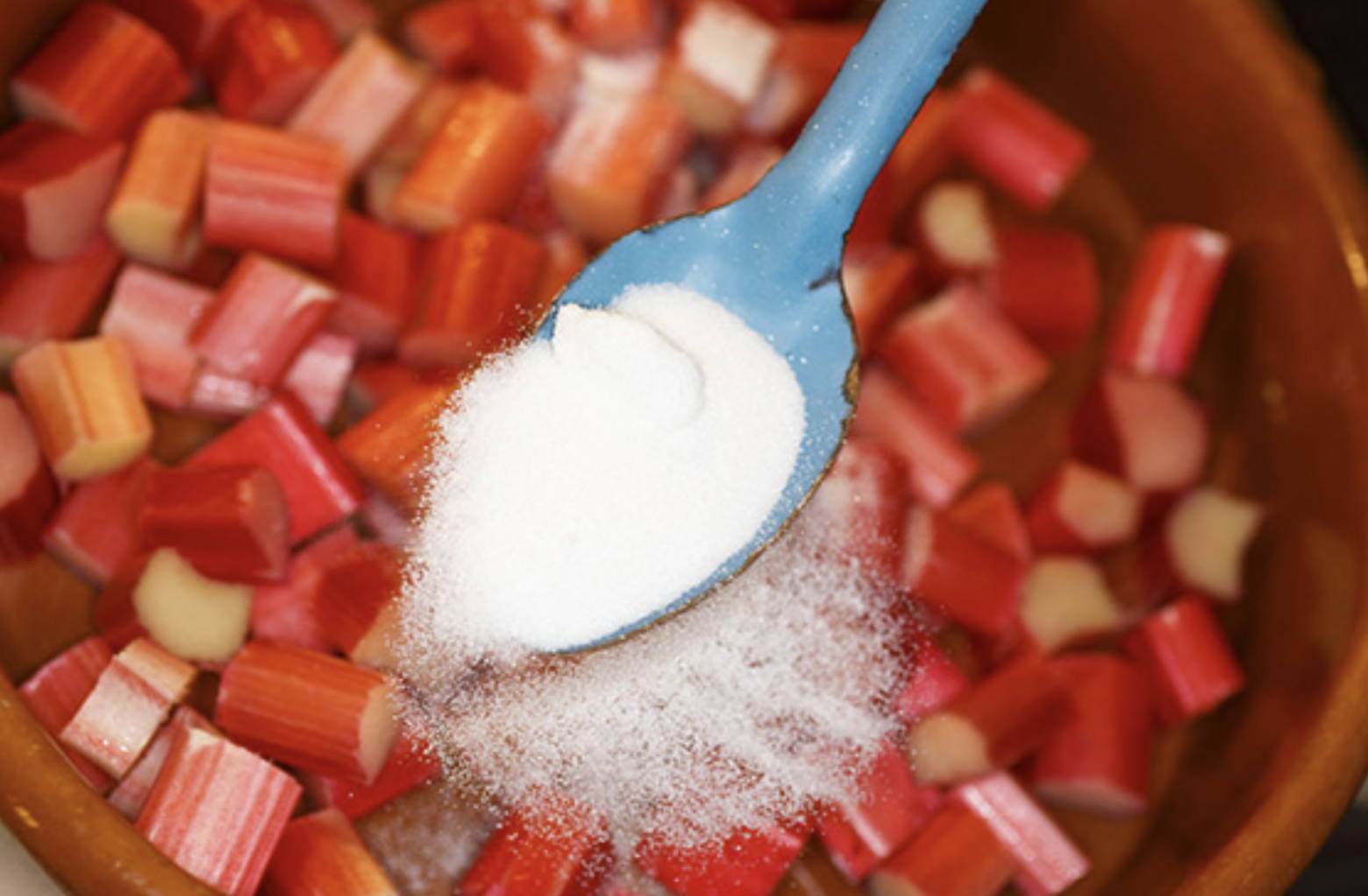 Martin and Susie Parr
Making Rhubarb Crumble at Home in Bristol, England, 2016
Pigment Print
Edition 11/75
Framed dimensions: 9 x 11 inches
Martin and Susie Parr are most noted for their photographic documentation of everyday life in their home country of England, but with a critical eye towards the social class structures that define our daily existence. The work that we have hanging, "Making Rhubarb Crumble at home in Briston, England" does not capture the societal inequities that they are known for documenting, but it is bright with the saturated colors that infuse all of Martin Parr's more recent work. The old sugar spoon filled with the brightest white of sugars balances perfectly the deeply rich, ruby red of the rhubarb – the photographic composition works exactly as the recipe for the crumble itself, with the soft and sweet sugar acting as a foil for the tart strength of the rhubarb.
---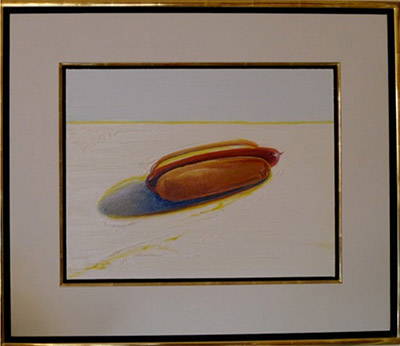 Wayne Thiebaud
Ballpark Frank,2004
Oil on canvas
Framed dimensions: 27 1/8 x 32 1/8 inches
Wayne Thiebaud (American, b.1920), a painter best known for his still lives and food displays, was born in Arizona, and made his career on the West Coast. Though Thiebaud is famous for his calm depictions of everyday objects, he also painted California land and cityscapes.
Thiebaud studied Commercial Art in school, and, after graduating college, was accepted as a professional cartoonist at Walt Disney Studios. His years as a cartoonist influenced his mature technique, a stylized realism depicting everyday objects and scenes. Although Thiebaud is often associated with the Pop Art movement, his work does not critique the iconic imagery of American society and consumer culture, but embraces it instead. Thiebaud also taught at the Sacramento Junior College and the University of California at Davis for many years. He currently lives and works in California.
Thiebaud and Nan McEvoy, founder of McEvoy Ranch, enjoyed a special friendship over the decades. Thiebaud's presence at the Ranch and within the McEvoy Family Collection is seen through numerous letters with hand drawn illustrations, paintings, and a custom armoire currently located in the Victorian.
Thiebaud is represented by John Berggruen Gallery and Paul Thiebaud Gallery in the Bay Area.
---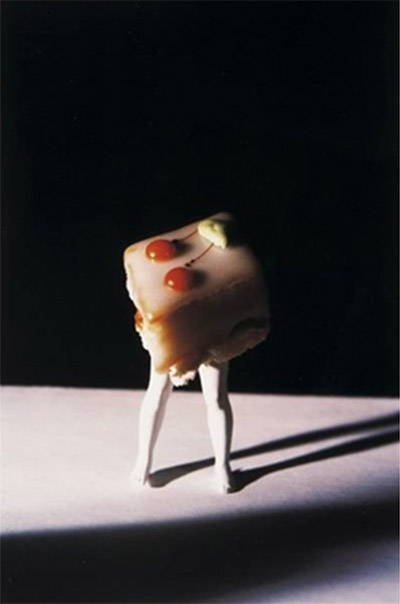 Laurie Simmons
Walking Petit Four (White Icing),1989
Chromogenic Print
Edition of 50
Framed dimensions: 16 7/8 x 13 inches
Laurie Simmons (American, b. 1949) is an American artist, photographer and filmmaker. Known for her distinct visual style and staged domestic scenes using dolls and miniature objects, Simmons questions the veracity of photographic realism and the stereotypes of American culture. Simmons emerged in the 1980s as a prominent member of the Pictures Generation, alongside Cindy Sherman and Louise Lawler. Today, her work is found in the collections of the Art Institute of Chicago, The Museum of Modern Art in New York, the National Gallery of Art in Washington, D.C., and the Los Angeles County Museum of Art, among others.
Simmons lives and works between New York, NY and Cornwall, CT.
---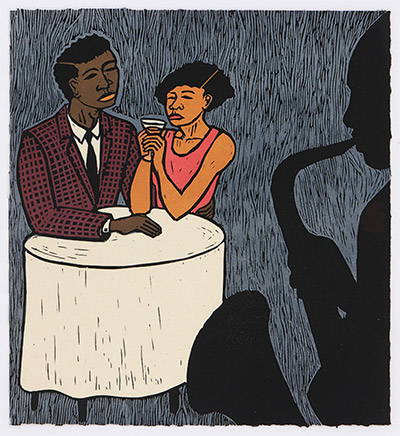 Alison Saar
Table for Two,2019
Multi-block linocut on handmade Japanese Hamada kozo paper
Edition of 20
Framed dimensions: 24 1⁄2 x 22 7/8 inches
Alison Saar (American, b.1956) is a contemporary American artist who addresses ideas of race, gender, culture, spirituality, and humanity through her figurative sculptures and paintings. Saar also creates prints and illustrations that explore themes similar to those expressed by her three-dimensional bodies. A recipient of the John Simon Guggenheim Memorial Foundation and Joan Mitchell Foundation Fellowships, Saar currently lives and works in Los Angeles, CA. Her work can be found in the collections of the Walker Institute in Minneapolis, the Whitney Museum of American Art in New York, and the High Museum in Atlanta, among others.
Saar is represented locally by Catharine Clark Gallery in San Francisco.
---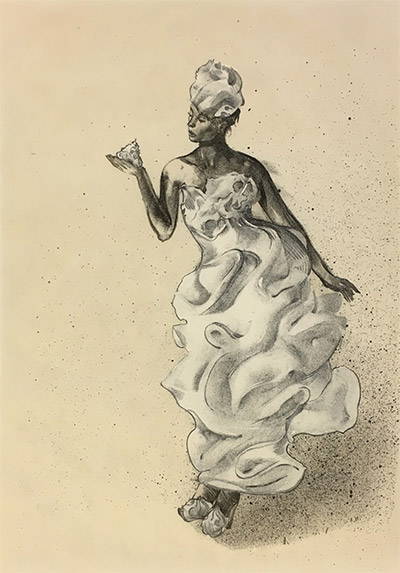 Will Cotton
Cream,2017
Lithography on Kitikata
Edition 4/20
Framed dimensions: 22 1⁄4 x 17 inches
Will Cotton (American, b.1965) uses a refined painterly technique inspired by the Hudson River School and traditional figure painting. He paints surrealistic foodscapes and demure female nudes wearing lollipop crowns, lounging in cotton candy, or adorned with cupcake foils. Cotton paints from life, constructing elaborate models using real baked goods and other confectionery, from which he derives the fantastical environments depicted in his large-scale canvases. Cotton's work has been interpreted as a criticism of the greed and the overindulgence of American society, as well as a contemporary re-imagination of traditional genres such as landscape and portraiture. Cotton has also directed his creative energies toward the realm of popular culture, acting as art director for Katy Perry's California Gurls (2010) music video and depicting the singer in a series of paintings.
Cotton lives and works in New York City and is represented by numerous galleries including Pace Prints and Flying Horse Editions.
---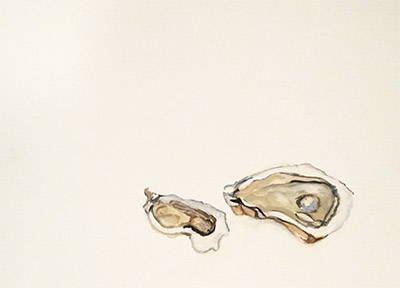 Michelle Elzay
Oysters 9,2011
Oil on linen
Framed dimensions: 14 x 18 inches
Michelle Elzay (American, b.1973) works with themes related to people in places. In particular, revolving around the ideas of decadence. Much of Elzay's inspiration is drawn from her love of 19th century literature. Elzay's works often have great attention to detail, allowing the viewer to truly indulge in the subject.
Elzay lives and works in New York City.
---
Susan Cianciolo
Untitled,2017
Silkscreen print
Edition 38/100
Framed dimensions: 21 x 30 3⁄4 inches
Susan Cianciolo (American, b.1969) is best known for being a force in the creative sector of New York City, creating window displays for Bergdorf Godman and designing for fashion brands such as Kim Gordon. Cianciolo also produced the RUN Collection from 1995 – 2001, a fashion line of hand crated clothing made from found or recycled garments and textiles. Often using illustrative techniques and bright colors, the artist brings the viewer into New York's vibrant energy.
Cianciolo lives and works in New York City and is represented by Bridget Donohue Gallery.
---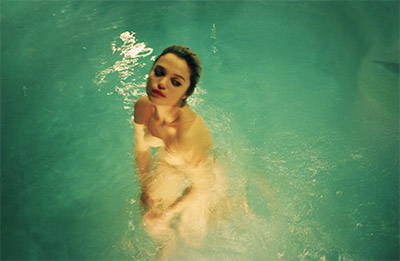 Sandy Kim
Untitled,2015
Archival digital print
Edition 1 of 2
Framed dimensions: 32 1⁄4 x 46 3⁄4 inches
Sandy Kim (American, b. 1986. She attended the Academy of Art University (San Francisco), graduating in 2009 with a BFA in Graphic Design. First gaining international exposure for her intimate portraits of the band Girls, Kim's work has been featured in The New York Times, The New Yorker, Artforum, Vogue Italia, Nylon, Vice, W, New York Magazine, Interview Magazine, The Guardian, Elle, Wired, and Rolling Stone. Recent exhibitions include [On Approval] Beta Launch at Ever Gold [Projects] (San Francisco, 2019.
Kim is based in Los Angeles and Brooklyn.
---
Kara Rosenlund
Sea: Strandbroke Island, Queensland, Australia, 2014
Archival pigment print
Edition 44/100
Framed dimensions: 53 x 37 x 1 1⁄2 inches
Kara Rosenlund (Australian) is a freelance photographer with works ranging from portraiture, food, to lifestyle – all with a focus on the natural world. Rosenlund is influenced by the exotic landscapes, layered interiors, and her home country of Australia, drawing from the beauty of the outback, coastlines, and colors of the country.
Rosenlund has a lifestyle brand and lives and works in Brisbane, Australia.
---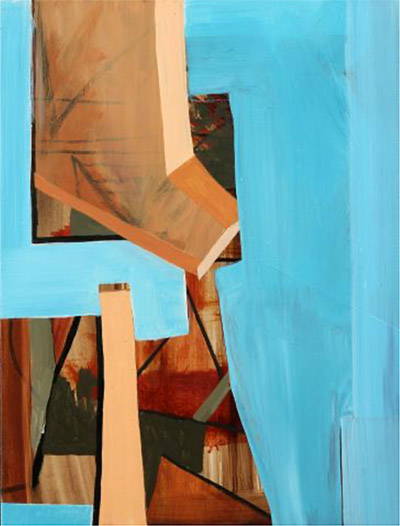 Rebekah Goldstein
Built Like a Brick House, 2013
Oil and acrylic on canvas
Dimensions: 24 x 18 x 1 1⁄2 inches
Rebecca Goldstein (American) makes paintings that depict imagined structures and spaces. As they ignore laws of gravity and perspective, these are structures that could only exist within the world of a painting. The boundary between depiction and the abstract is central to her investigation, resulting in an image that fluctuates between the familiar and the undecipherable.
Goldstein received an MFA from California College of the Arts in 2012, and a BA from Sarah Lawrence College in 2004. She has recently had solo exhibitions at Cult | Aimee Friberg Exhibitions, San Francisco, Jack Geary Contemporary, New York, and 100% Gallery, San Francisco. Her work has been shown widely across the Bay Area including at the Contemporary Jewish Museum, City Limits, George Lawson Gallery, Pro Arts, and Berkeley Arts Center.
Goldstein lives and works in San Francisco and is represented by Cult | Aimee Friberg Exhibitions, San Francisco. She also has an artist studio at Minnesota Street Project, where Nion McEvoy has his foundation, McEvoy Foundation for the Arts.
---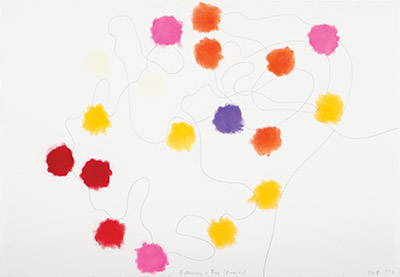 Spencer Finch
Following a Bee (Zinnias), 2018
Pastel and pencil on paper
Framed dimensions: 33 1/8 x 46 1⁄2 inches
Spencer Finch (American, b.1962) pursues the most elusive and ineffable of experiences through his work— from the color of a sunset outside a Monument Valley motel room to the afternoon breeze by Walden Pond, the shadows of passing clouds in the yard of Emily Dickinson's home or the light in a Turner painting. With both a scientific approach to gathering data and a true poetic sensibility, Finch's installations, sculptures and works on paper filter perception through the lens of nature, history, literature and personal experience.
With Finch's Bee Series, the artist used a GPS to mark his position as he followed a bee and marked a "flag" on the GPS each time the bee alighted on a flower. The pencil line follows the route of the flight.
Finch lives and works in New York City and is represented by James Cohan Gallery in New York, as well as others.
---
GET 15% OFF ALL* PURCHASES
GET 15% OFF ALL PURCHASES
JOIN THE McEVOY RANCH SOCIAL CLUB FOR DISCOUNTS AND ACCESS TO MEMBER EVENTS AND ONLINE RESOURCES
*Exclusions Apply
JOIN THE McEVOY RANCH SOCIAL CLUB FOR DISCOUNTS AND ACCESS TO MEMBER EVENTS AND ONLINE RESOURCES