HOME      >      OUR BEAUTY COLLECTION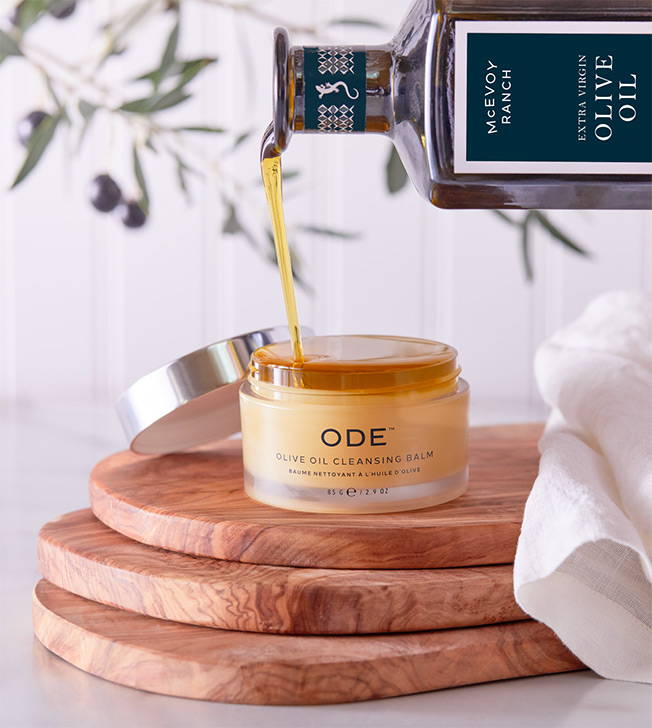 OUR OLIVE OIL BEAUTY COLLECTION
Infused with 100% early-harvest extra virgin olive oil & all-natural botanicals.
ODE Natural Beauty honors our commitment to the common good by using recyclable packaging; saying no to phthalates, parabens, sulfates, and animal testing; and committing to Leaping Bunny and USDA organic certification.
Early-Harvest Olive Oil Matters: By harvesting our fruit before it is phenologically ripe, we produce concentrated olive oil that protects and nourishes skin with its high polyphenol content. Our formulas are efficacious for women and men of all skin types and are known to:
H Y D R ATE
Organic extra virgin olive oil contains high levels of readily absorbable squalene*, an extremely hydrating lipid similar to the skin's natural sebum.
N O U R I S H
Our olives are harvested early in the fall – in the Tuscan tradition – ensuring peak antioxidant levels.
PROTECT
Premium quality olive oil forms a barrier to protect skin from irritants, while its vitamin A & E content helps soften overexposed, dry skin.
*Conventional olive oil is processed chemically to remove squalene, which is then sold as a separate, highly-processed, and degraded ingredient.
GET 15% OFF ALL* PURCHASES
GET 15% OFF ALL PURCHASES
JOIN THE McEVOY RANCH SOCIAL CLUB FOR DISCOUNTS AND ACCESS TO MEMBER EVENTS AND ONLINE RESOURCES
*Exclusions Apply
JOIN THE McEVOY RANCH SOCIAL CLUB FOR DISCOUNTS AND ACCESS TO MEMBER EVENTS AND ONLINE RESOURCES